Erling Haaland would finish the season on 70 Premier League goals if his strike-rate was maintained and he played every minute – but how is the Norwegian achieving his record-breaking returns?
Haaland has smashed home 10 goals from just six Premier League games, and has also been hooked off early in all but one of those to miss 55 minutes – netting back-to-back hat-tricks during wins over Crystal Palace and Nottingham Forest at the Etihad.
Those numbers produce a staggering ratio of 1.86 goals per game – more potent than any other player in Europe's top five leagues this season to have played in excess of 108 minutes.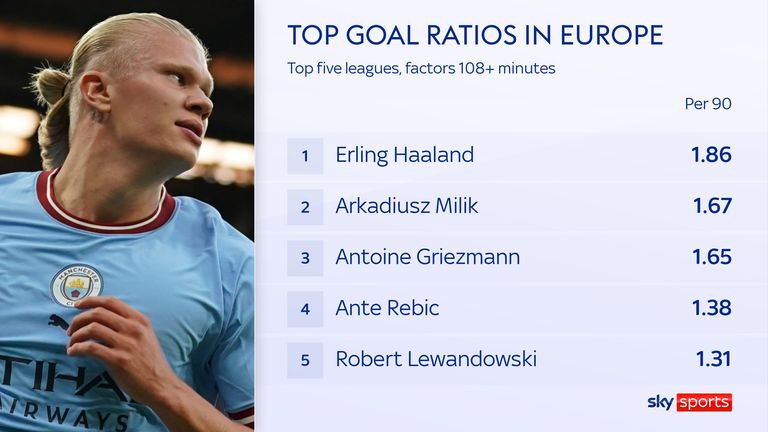 The chart below plots goals and expected-goal returns for all Premier League players this season and presents the scale of the striker's early form – soaring clear in both categories.
Several forwards from opposition teams are in consistent form, most notably Aleksandar Mitrovic, Ivan Toney and Wilfried Zaha – but Haaland is doubling, and humbling, those figures.
Some critics might claim that any established forward would convert bags of goals in Pep Guardiola's side, based on the sheer quantity of clear-cut chances they create.
However, the Norway international has also nearly doubled his xG returns, netting almost four goals more than the 6.4 expected from chances presented to him - another league-topping ratio.