Jamie Carragher and Gary Neville have made their Premier League predictions for the 2021/22 season – and both Sky Sports pundits are tipping Manchester City to successfully defend their title.
City suffered an opening weekend defeat at Tottenham but bounced back in style with a 5-0 thrashing of Norwich on Saturday and Neville and Carragher believe Pep Guardiola's side – who added £100m Jack Grealish to their squad and could move for Tottenham's Harry Kane in the final week of the transfer window – will be crowned champions again.
"Man City are Man City," said Carragher. "Liverpool are the one team who have broken their spell up, once in the last four years. It will take a lot to do that again. It will be really difficult to stop City if Kane went there. But if he doesn't, I think it is much more of a fight. I think Chelsea are involved and I think Liverpool are involved."
Neville agreed. "You've still got to go with Man City at this point because of what they've done over the last few years [regardless of what happens with Kane] and Chelsea have still got to prove themselves, Manchester United have got to prove themselves, Liverpool have got to prove they can get back to that level where they were before."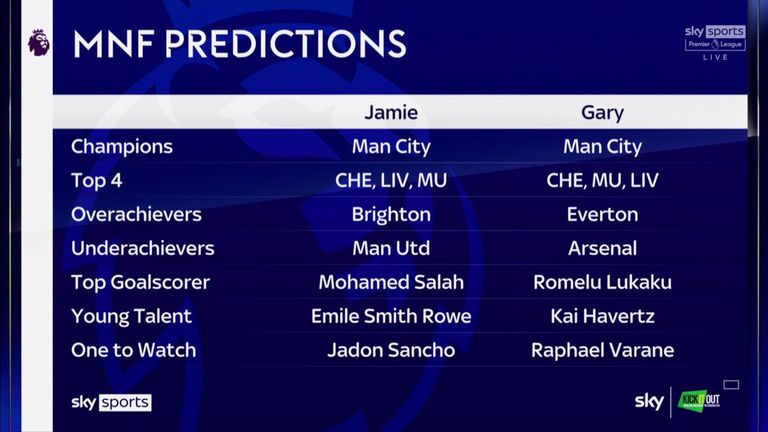 Top four
Carragher: Chelsea, Liverpool, Man Utd. Neville: Chelsea, Man Utd, Liverpool.
The pair are also agreed on the teams they expect to finish in the Champions League qualifying spots behind Manchester City, however there is a slight disagreement on the final order of the top four.
Neville explained why he felt Manchester United would finish above Liverpool: "I just think they've got a better squad. I think Liverpool have got a better first XI but you know Liverpool, with a couple of injuries, do have that drop in level. United don't really have that drop in level in any position."
Baumann, Zentner & more I Bundesliga MW2 top five saves
"HE'S RUINING THAT CLUB!!" ❌😱 Arsenal fan Rich says #AFC under Arteta are just a poor man's Man City