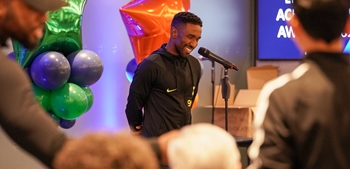 This year's Haringey Educational Achievement Awards were co-hosted by three Haringey youngsters – Fàtima, Fatmata and Santina – and featured performances from local talent including the Haringey Vox Choir, Collage Arts, spoken word artist Kidanasi and the Wuntanara African Drum Band.
Jermain said: "I have always been very passionate about working with young people and my experience with the E18HTEEN project during my time as a player focused me on helping children with care to reach their potential.
"The Club and Haringey do an incredible amount of work together for this group of young people across the borough and it has been fantastic tonight to hear about the educational achievements of so many children in care, often in extremely difficult circumstances.
"Now I'm back home at Spurs, I'm looking forward to continuing to work with the Club and its Foundation to identify opportunities to re-engage with local young people and do what I can to make a difference."
Nicola Morgan, Head of Haringey Virtual School, said: "I've worked in Education all my career and it's events like these that really act as a reminder of why I do what I do. The achievements of our children and Haringey fostered young people are among the best in the country. Our children and young people are amazing, resilient and hardworking. As Head of Haringey Virtual School I am extremely proud to be part of a dedicated team who have really been able to make a difference in the lives of our children and young people by ensuring they receive the best possible education and support."
The Tottenham Hotspur Foundation and Haringey Virtual School continue to provide opportunities for looked after young people in Haringey to take part in activities, events and workshops.
The Foundation's To Care Is To Do program provides a range of support services to help children in care and who have left our local community. The project improves educational attainment, increases employability, develops life skills and promotes healthy and active lifestyles.
Care leavers also take part in independent living activities such as money management, cooking and DIY workshops, and are signposted about work experience, qualifications and job opportunities.

Source: Jermain Defoe celebrates educational achievements of Haringey's children in care