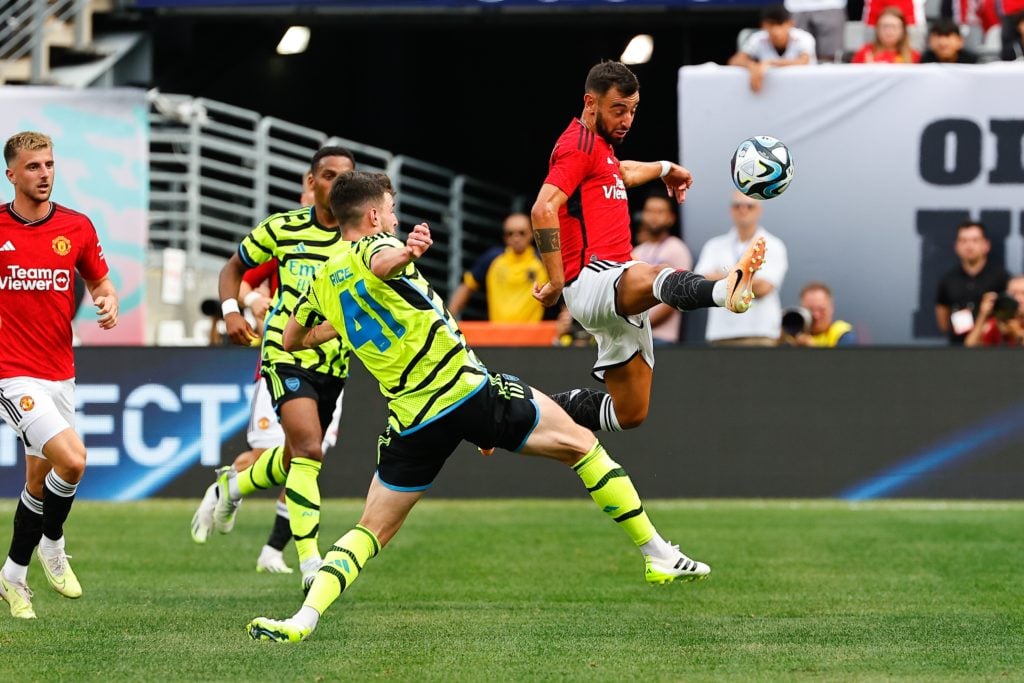 Declan Rice received a wake-up call when the £105million man was criticized in his first outing for Arsenal following his move from West Ham.
Declan Rice got a taste of what life will be like after West Ham in his first Arsenal outing in a pre-season friendly defeat to Man United.
There was a time when preseason games barely merited a mention. His only value was physical form.
But now performances and even results count to some degree with the eyes of the world on every kick, especially when Arsenal faced Man United in the United States.
West Ham were in action on Saturday against Dagenham and Redbridge. The Hammers got a taste of what life could be like after Declan Rice, with no replacements imminent, in a game that ended 2-2.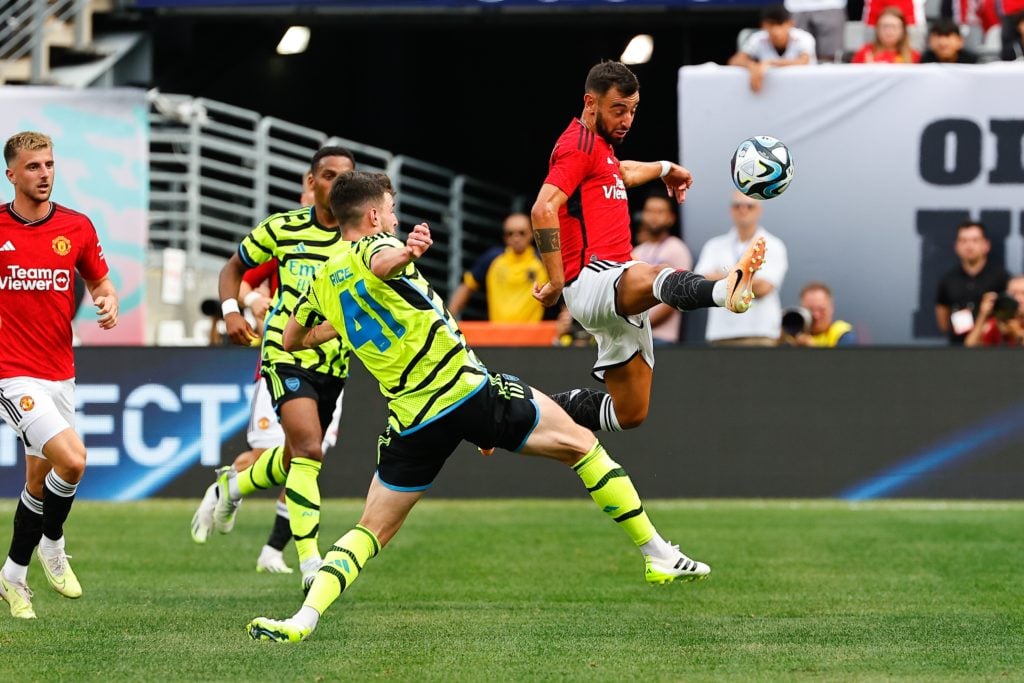 Photo by Rich Graessle/Icon Sportswire via Getty Images
Meanwhile, Rice will quickly see the impact of his British record move from West Ham to Arsenal and the increased attention it brings to all aspects of his performance.
Perhaps it sums up modern football that player ratings are now released for pre-season games.
But they are and many West Ham supporters will no doubt be interested to see how their warnings to Rice are already ringing true.
Hammers supporters told Rice not to expect the level of love, unconditional support and appreciation at Arsenal that he enjoyed at West Ham.
And while his quality is undoubted and he will almost certainly establish himself as one of Arsenal's key players, things haven't all gone well for the former West Ham skipper overnight.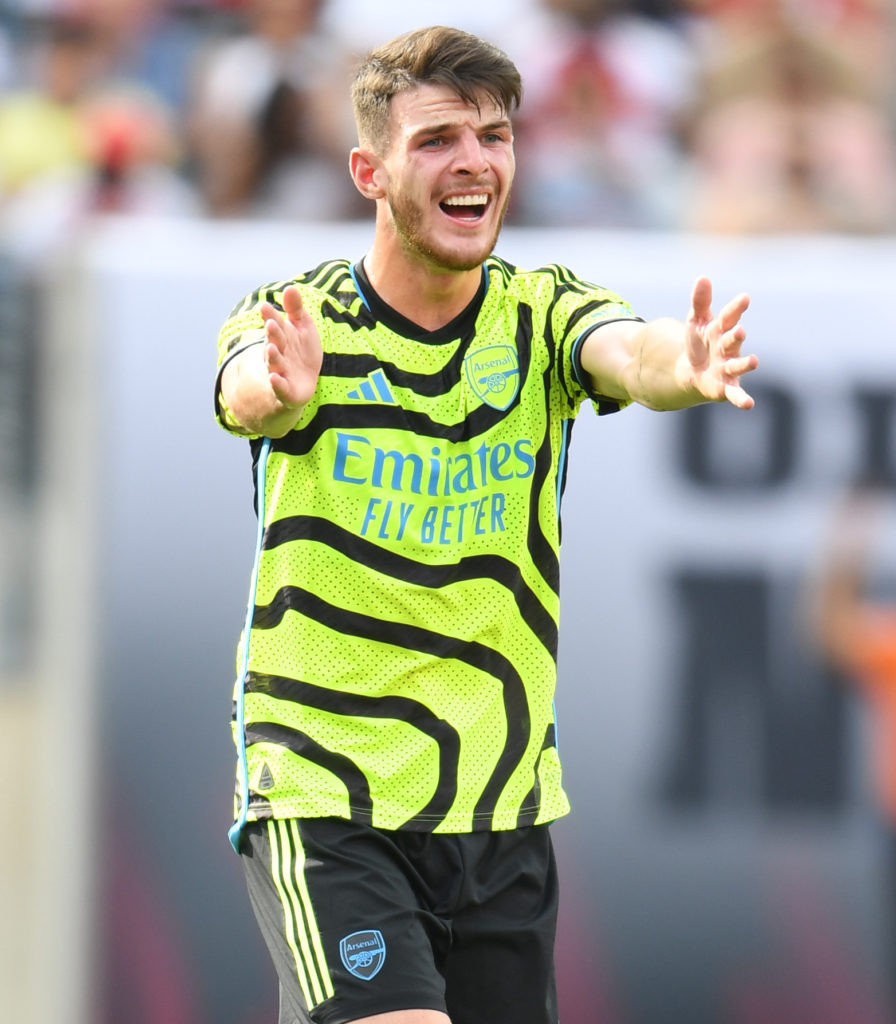 Photo by Stuart MacFarlane/Arsenal FC via Getty Images
Rice received a wake-up call when the £105m man was criticized in Arsenal's first outing since leaving West Ham.
Some Gunners fans criticized Rice's performance in the 2-0 defeat to the Red Devils when they took to social media.
So were the match reports.
The Evening Standard gave Rice a rating of 6/10, saying: "He was exposed in transition at times as the midfield three with Odegaard and Havertz didn't really work. He helped his defense when chasing balls over the top, but a quiet first start for Arsenal.
Arsenal fan site Pain in the Arsenal was even less impressed, giving the former Hammers talisman an unprecedented 4.5/10.
"It wasn't the easiest of assignments for Rice as he saw plenty of Fernandes and was turned over by the United skipper in the first 45 minutes. This was certainly not the £105m man's best.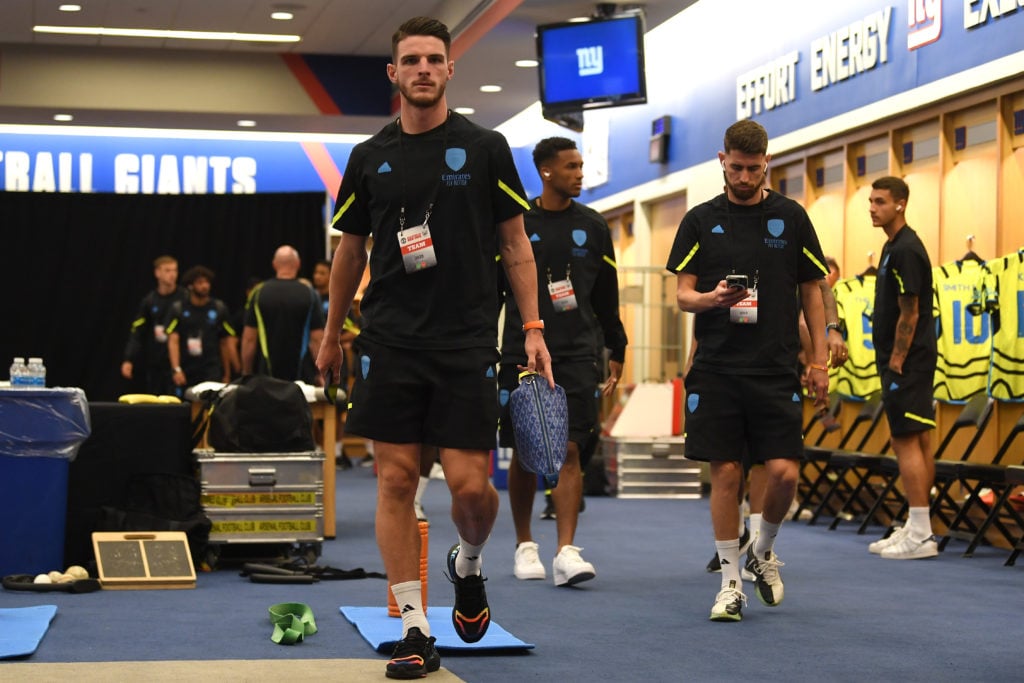 Photo by David Price/Arsenal FC via Getty Images
All Football.London had to say about his performance was: "He came off too early in the second half to get a rating."
And Now Arsenal gave Rice a rating of 6/10, saying: "Difficult first half playing the defensive midfield role alone with two number 10s in front of him. It didn't really work. Needed more support and closer players."
Rice will clearly need time to settle into a new team dynamic at Arsenal.
But he will soon realize that he is now out of the comfort zone that West Ham offers.
READ ALSO
Striker Moyes has twice tried to get West Ham back on the radar.
And then there was one: Fulham about to leave West Ham in a league of their own.
Moyes may have dropped his biggest hint yet on who will be West Ham's new captain.
Related topics

Source: 'Left exposed' Declan Rice gets wake-up call as £105m man is criticised in first start for Arsenal after West Ham exit