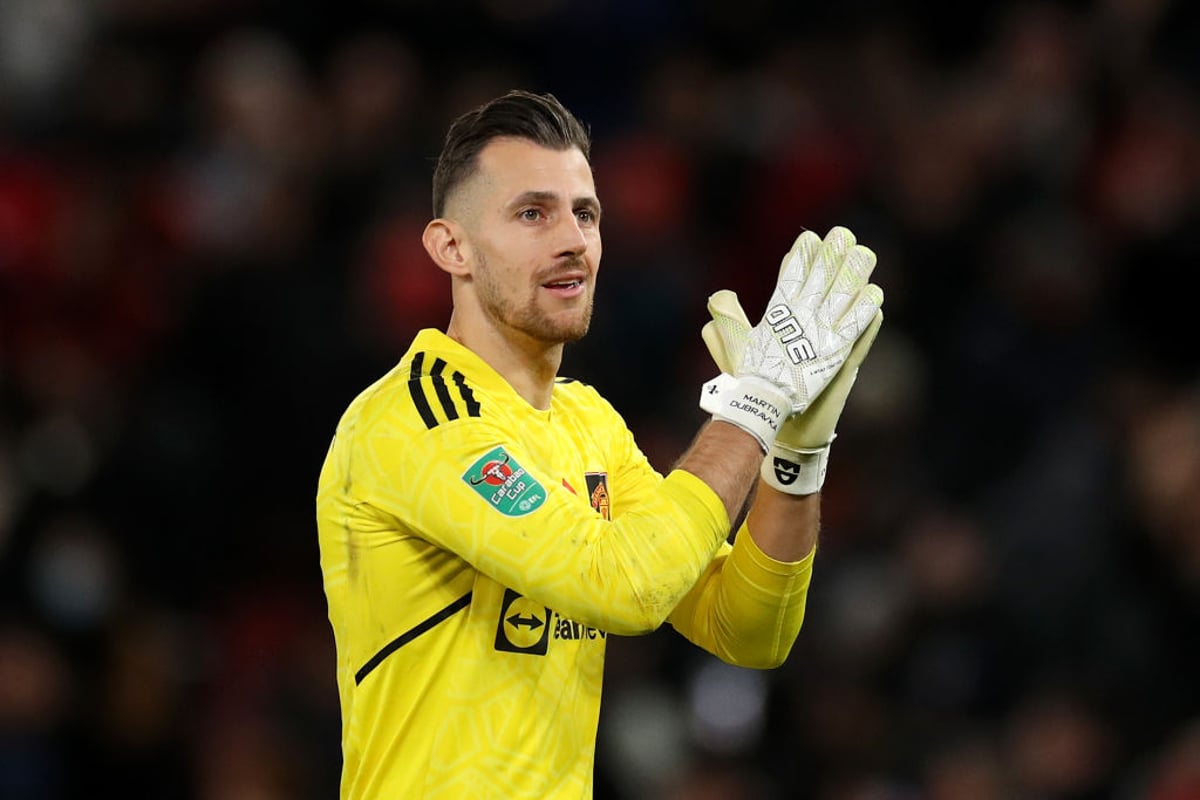 Martin Dubravka has featured just once for Manchester United after joining on loan from Newcastle United in the summer.
Martin Dubravka insists he is enjoying life at Manchester United despite making just one appearance since completing his season-long loan from Newcastle United in the summer.
Magpies boss Eddie Howe reluctantly sanctioned the goalkeeper's switch to Old Trafford after Dubravka expressed his desire to continue with the move, with the arrival of Burnley's Nick Pope bringing further competition.
Although David de Gea is the Red Devils' undisputed No.1, Dubravka was thought to feature for the club's Europa League games but was overlooked for all six of their group games.
Last week, the Slovakian finally made his long-awaited debut as Man United beat Aston Villa 4-2 to progress to the last 16 of the Carabao Cup, where they will face Burnley in the next round.
Newcastle United goalkeeper Martin Dubravka is on loan at Manchester United. (Photo by Lewis Storey/Getty Images)
Speaking after the Villa game, the 33-year-old told MUFCTV: "I came here to enjoy this game because you don't often get the chance to play. Obviously I came here to challenge but I'm enjoying every minute
"I've played against Man United so many times here (at Old Trafford) but now I'm representing this club. I'm enjoying every moment because it's not that often.
"I like working with him (de Gea). He's a great guy. I came here to push and challenge, of course, but I respect David as a person. I'm glad I've created a good mood on the training ground with Tom (Heaton) and the other lads. I enjoy every minute with them. It's good to be here."
Ahead of the World Cup break, Howe revealed he is open to holding talks with Dubravka about his situation at Old Trafford. Newcastle have an option to bring the Slovakian back in January, and Howe has left the door open to a return. The decision, however, is up to the player.
"I think he's an outstanding goalkeeper, I really am," Howe said. "I'll talk to Martin as time goes on. I won't talk now as he's in the middle of a busy period like us. There will be a time when I'll sit down with him and talk and we'll see what he wants to do next.
Newcastle United's England head coach Eddie Howe (L) and Newcastle United's Slovakian goalkeeper Martin Dubravka (R) leave the pitch after the English Premier League soccer match between Manchester City and Newcastle United at the Etihad Stadium in Manchester, north-west England, on 8 May. , 2022. (Photo by PAUL ELLIS/AFP via Getty Images)
"It is difficult for me to comment. I don't know what happens at any other football club. All I will say is that I love Martin as a guy, he was brilliant for us last year and he's an outstanding goalkeeper and I'll talk to him at the right time. Of course, the door is still open. A lot depends on what Martin wants. We'll take it from there."
Dubravka, who has made 13 appearances for Newcastle since joining from Sparta Prague in January 2018, is under contract at St James' Park until 2025.

Source: Martin Dubravka makes telling Manchester United admission ahead of Newcastle United talks