If you translate Lyon into English it means "fierce brave warrior". Fitting, then, that this city is staging one of the biggest games in West Ham's history. It's what the club have built their season on, it's how they got to this defining moment. It's rare in top-level sport you are given a second chance but here in France West Ham have just that.
"When things don't go your way you either fold or fight on," Michail Antonio said after West Ham played the second half with 10 men and held on for a 1-1 draw in the first leg of their quarter-final with Lyon. "We're coming out swinging and getting that W."
The club has shown huge resilience as they balanced their Premier League aspirations with European ambitions this season, and when it comes to tenacity and persistence Antonio is the poster boy. It's been a long journey from non-League football to a Europa League quarter-final, and he isn't about to let this moment pass.
"We have had knockbacks but always come back. The boys are buzzing, we are buzzing and the way things are going now we are going [there] to win it. We are in it to win it."
Antonio exudes supreme confidence, a strong belief that West Ham can turn a great season into something truly special. To do it they may well need him to rediscover his form in front of goal. He's only managed two goals for West Ham this year, and though he admits to being disappointed, he can't lose sight of the bigger picture.
"It's the longest streak in my career. One thing about football is, it is not about you personally. It is about being a team player. I definitely believe I am doing that, I am bringing the team together, the team is playing off me and I am bringing the team in and assisting in goals."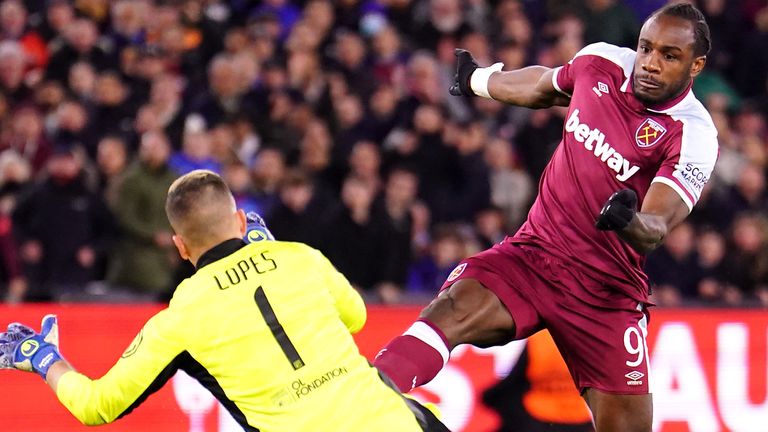 The striker has teased that should he end that drought then expect something special. He wouldn't confirm or deny if he packed a cardboard cut out of himself, but this is a man who has served up the worm, the Homer Simpson and even roped in Jamie Carragher and Gary Neville. What could possibly be next?
Man City fans react to knocking Atletico Madrid out of the #UCL & reaching the Semi-Finals! 🏆
Regular caller Jackie SLAMS Atletico Madrid's players for their 'antics' against Man City! 😡