Sky Sports' football pundits give us their predictions, hopes and analysis ahead of a new Premier League campaign, with all the key questions answered.
How many teams can win the title?
Roy Keane: Just Liverpool and Man City, I think they're a level ahead of everyone else. We've seen that with recruitment. Even the game last week, I know it's only the Community Shield and pre-season, I just can't see the other teams getting near them for the title. There will be improvement at Tottenham and Manchester United have to be better than last year, but the simple answer in terms of winning the league: Liverpool and City. I can't see beyond it.
Gary Neville: Liverpool and Man City. City will definitely finish in the top two. Liverpool, I always have this little hope rather than thought that they might just dip slightly, and then maybe Tottenham are the only team I can see that can get close to them. I don't feel Chelsea, United, Arsenal are in a position to get close to the top two. The Champions League will cause a problem for Tottenham but they've got some world-class strikers.
Who wins the title?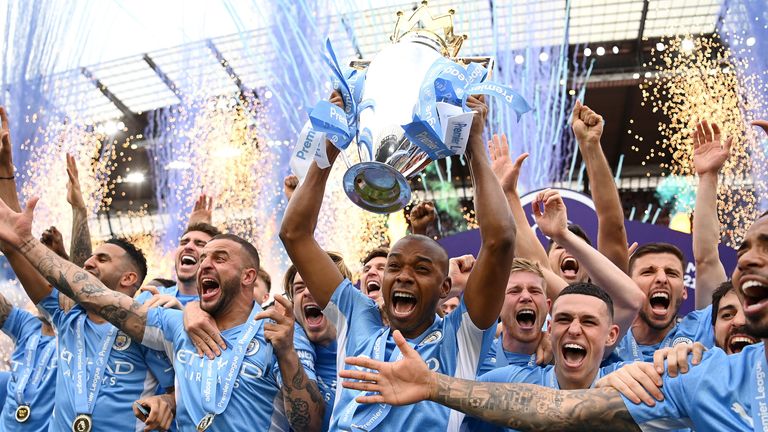 Gary Neville: Man City.
Jamie Carragher: Liverpool because of Virgil van Dijk. Every time he's been fit and at his best Liverpool have got mid-90 points. Last season he was coming back from that cruciate injury. From Christmas onwards when he was back to his best, Liverpool looked a completely different team. If Liverpool get him at his best from the get go, they've got a great chance.
Micah Richards: It's Man City's to lose.
Roy Keane: Man City.
David Prutton's Sky Bet Championship predictions
Man Utd shirt sponsors TeamViewer will NOT renew contract with club as they blame £47m-a-year deal for stock price drop