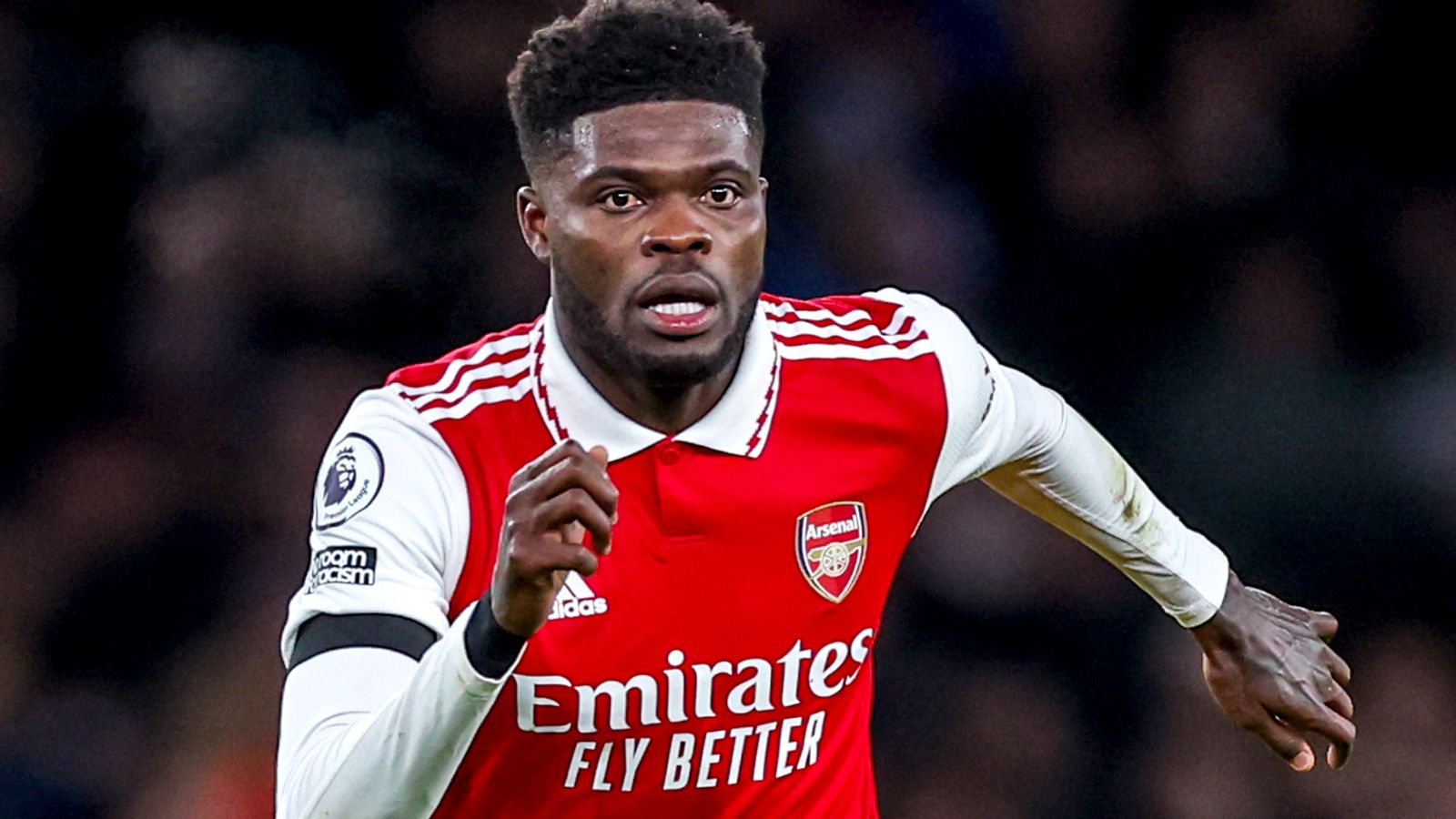 Arsenal midfielder Thomas Partey will undergo an MRI this weekend after going off injured in the FA Cup fourth round defeat at Manchester City.
Partey was replaced at half-time in Friday night's defeat as he was replaced by Albert Sambi Lokonga.
Arsenal manager Mikel Arteta confirmed the Ghanaian, who has been an influential part of their season, was in "some discomfort".
The Independent's Miguel Delaney and the Press Association's Simon Peach discuss Arsenal fans' reaction to the Gunners' 1-0 defeat by Manchester City in the FA Cup.
Arteta said: "He had some discomfort and it was getting worse.
"He felt uncomfortable going on. (Saturday) or the next day he will have an MRI and see what he has.
"At the moment we have the injury of Mo (Elneny). It is not possible to get him fit. (Albert) Sambi has come in and he has done well.
"It's true that Thomas has a great influence and a great personality and in the second half we didn't have him."
The Gunners are looking for a new midfielder before the transfer window closes and any serious injury to the 29-year-old could accelerate those plans ahead of Tuesday's deadline, with Mohamed Elneny currently out injured.
Sky Sports reporter Michael Bridge provides details of Arsenal's £60m bid for Brighton midfielder Moises Caicedo
Arsenal rejected a £60million bid for Brighton midfielder Moises Caicedo on Friday.
The south coast club insist Caicedo is not for sale in this January transfer window, but Arsenal remain interested and will decide whether to return with an improved offer.
The Ecuador international took to social media on Friday night to plead with Brighton to take up a "magnificent opportunity" following Arsenal's £60m bid.
Roberto De Zerbi says he has spoken to Moises Caicedo as a father, rather than a coach, and expects him to stay at Brighton until the end of the season.
Asked about the 21-year-old's move after the defeat at City, Arteta replied: "You know I'm not going to comment on any player until something is done, and I'll continue like that."
Asked if Arsenal expected to be busy in the coming days, the Spaniard replied: "We have been quite active in the market.
"We have some needs and if there is anything else available the club is willing to try when it's reasonable and hopefully he will be a player who can improve our squad."
Keane: I expected more from Arsenal at City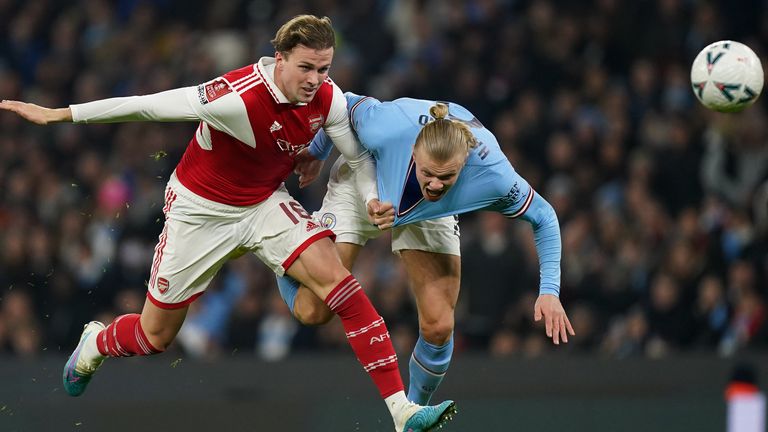 Image:
Arsenal's Rob Holding (left) challenges Manchester City's Erling Haaland in their FA Cup fourth round clash

Roy Keane says he "expected more" from Arsenal in their 1-0 FA Cup defeat at City and described their performance as "disappointing".
The north London side sit top of the Premier League, five points clear of City, but were beaten by Nathan Ake's second-half winner in the first meeting between the two sides this season.
Arteta, however, made six changes from last weekend's Premier League win against Manchester United, while City made just two as they included Erling Haaland and Kevin de Bruyne in their XI owner
Former Manchester United midfielder Keane told ITV: "It was difficult to assess Arsenal tonight because of the team they put out.
"Looking at the starting line-up, you could tell that wasn't their priority. They want to get that Premier League title.
"But I know the players will be down for the next few days because they don't want to win.
"They'll bounce back and if they win the league they'll say they had to sacrifice that game, but when you make so many changes especially defensively, you send the message that you're not that upset, which is not a good message to send.
"I expected more from Arsenal tonight but they were disappointing."
Pep: Arsenal will turn things around in the title race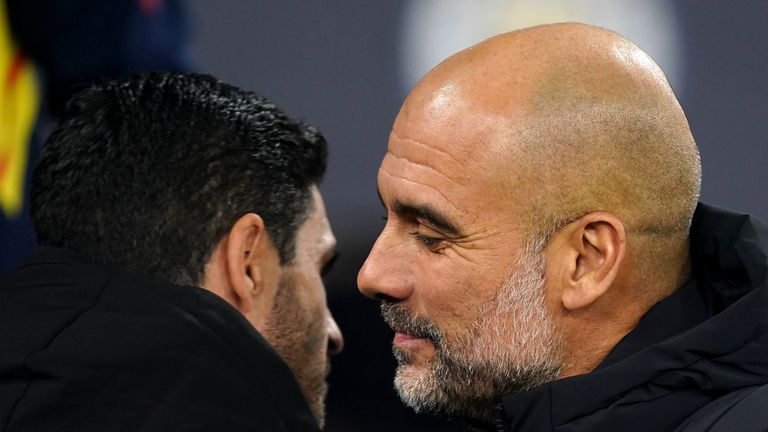 Image:
Manchester City manager Pep Guardiola hugs his former assistant and now Arsenal manager Mikel Arteta

Pep Guardiola has rejected suggestions that City's 1-0 win would have any impact on the Premier League title race.
The Spaniard admitted he was surprised by the tactics employed by his former assistant Mikel Arteta when Arsenal's man-to-man marking disrupted City's flow.
"It was a tight game, a difficult opponent," said Guardiola. "The second half was better, except for 10 minutes after the goal.
"I didn't expect this approach, man-to-man. It made the process difficult. In the second half we had to contact Erling (Haaland) more than usual, that's what we had to do. But that's how it is. a win, next round, we'll see what we have to do."
City head to the Emirates on February 15 in the Premier League, but Guardiola said he did not think that result had any bearing.
He said: "I'm pretty sure both teams will tweak something.
"I have a feeling they're going to do something different now."
Keane: It will take a lot to stop City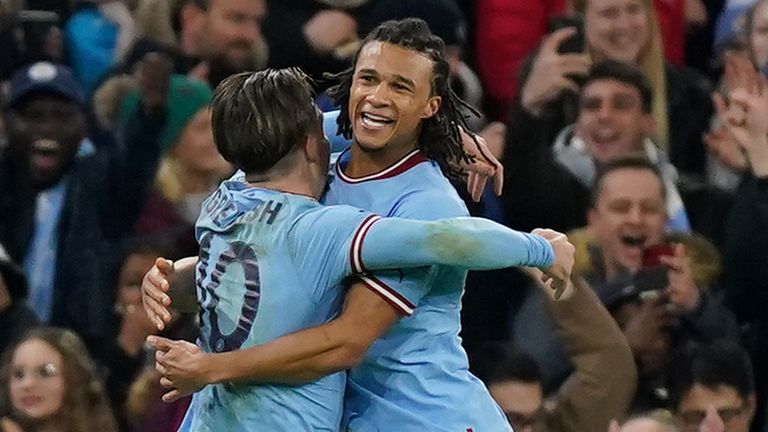 Image:
Nathan Ake (right) celebrates his second half winner against Arsenal with Jack Grealish

Guardiola's side have won their last three games after suffering back-to-back defeats earlier this month.
Keane told ITV: "Pep Guardiola criticized his players a couple of weeks ago but they have reacted well.
"These guys are naturally winners the last few years, so they're used to it. It's going to take a lot to stop them.
"What we saw tonight is the experience that Manchester City has shown over the last few years, knowing how to win games.
"There was a real lapse from Arsenal and they were punished for it.
"It's good to win games when you're not at your best and there's a lot more to come from City. They haven't been at their best but in the FA Cup it's all about getting the job done."

Source: Thomas Partey: Arsenal midfielder to have MRI scan after FA Cup fourth-round defeat at Manchester City | Football News