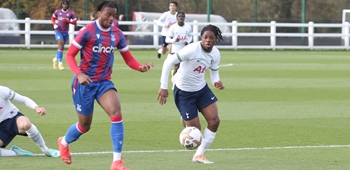 A minute later it was 2-0, and with some style. Towards the end of a great team move that started with keeper Luca Gunter, Rio Kyerematen came forward brilliantly from halfway and played Lankshear in behind the defense on the left, the striker squared for Williams which ended up rolling home at the far post. and cause joyous celebrations among the players.
Palace made it 2-1 in the 19th minute when Kporha broke through our defense and slotted into the bottom left-footed corner as Dorrington was on hand to block Jake Grante's effort from a free-kick wide as the locals were trying to ride. a reply but the game swung firmly in our favor when Izquierdo raced out of his box and fouled Lankshear as the striker took a long ball forward and tried to strike it past the keeper who forward, the referee showed the Eagles goalkeeper a straight line. red card
George Abbott's right-footed shot from 20 yards was well saved by substitute goalkeeper Laurie Shala minutes later, while Damola Ajayi's effort was helped into the net at the back post by Donley, only for it to go be ruled out for offside at the start. of the second half. But we deservedly restored our two-goal cushion on the hour when Will Andiyapan sent Donley sprinting down the left and Lankshear tapped home his cross as he reached the penalty area.
Palace continued to fight back and had a couple of spells of pressure as the second period continued, Adler Nascimento firing just over the crossbar while both Asher Agbinone and Nascimento forced smart saves from Gunter with headers from corners back in closing. moments We had our own chances too, however, with Dorrington, Donley and substitute Yusuf Akhamrich narrowly missing the target from distance as we kept control until the end.
"To score three goals of this quality was a real testament to the players"
Under-18s manager Stuart was delighted with the manner in which we scored the three goals, telling us after the game: "I thought they were excellent team goals with some great passing and movement. very exciting Palace are always a difficult team to play against, so to score three goals of that quality was a real testament to the players and I thought on the balance of play that we deserved the three points.
"It was really good to start on the front foot and then follow it up with a really nice second goal, which started from the keeper and then finished at the back post with Jaden… I thought it was excellent. It was great to go 2-0 up, we've been pushing that message a lot, about the importance of starting on the front foot and playing attacking, dynamic football and I thought the boys showed that today. The sending off was a big moment of the game, it was 2-1 at the time, Will Lankshear was very brave and I thought that changed the momentum of the game slightly but we handled it well and made it The man advantage counted for creating a lot of chances in the second half, so it was a good performance overall."