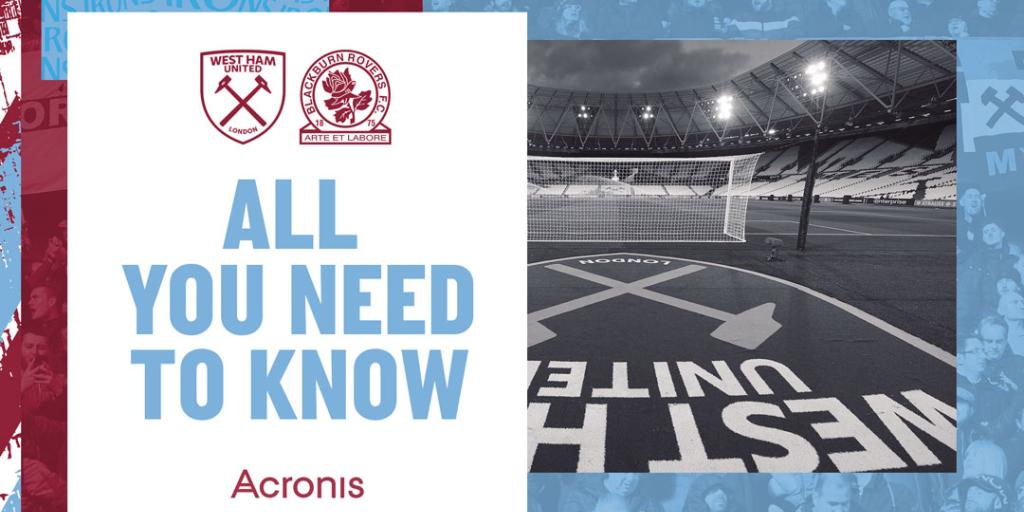 Team news…
David Moyes will name a strong team for Wednesday's tie, with victory taking West Ham United into the last 16 and potentially just three wins away from a place in the final at Wembley next February.
The only injury doubt is Maxwel Cornet, who has been sidelined for the last few weeks with a calf problem.
Blackburn Rovers boss Jon Dahl Tomasson has no injury concerns but may have one eye on this weekend's EFL Championship derby with fellow Burnley players.
The Dane revealed that he will rotate his squad in his pre-match press conference.
Opposition…
May 2022 marked ten years since Blackburn Rovers were relegated from the Premier League.
One of seven clubs to lift the trophy since the competition was introduced 30 years ago, Rovers have spent the last decade trying to return to the top flight.
And, little by little, they worked to do it.
But first, let's start with a bit of history, because Blackburn's history goes back much longer than the Premier League.
When the Football League was originally formed in 1888, it was dominated by northern clubs, with Blackburn one of six of the 12 founding members hailing from what was then the county of Lancashire: Accrington, Bolton Wanderers, Burnley, Everton and the inaugural champions Preston. North End were the other five.
Known around the world for its textile mills and weavers, Blackburn's football team was a source of pride for a city whose population had swelled to 130,000. Rovers had already won the FA Cup three times before the formation of the Football League, adding two more in 1890 and 1891.
Rovers remained a top-flight club in the new century and were crowned champions of England twice in the space of three seasons immediately before the First World War.
A sixth FA Cup came to Ewood Park in 1928 but, with the professional game spreading to all parts of the country, Blackburn were unlikely to maintain the relative dominance they had enjoyed in the early years of the club
For decades, Blackburn moved up and down the leagues, dropping to the third tier for the first time in 1971, before climbing back into the top division via the Play-Offs for the inaugural Premier League season, 1992/93.
Managed by Liverpool and Scotland legend Kenny Dalglish, Rovers' average home attendance doubled in four seasons, from 13,250 in 1991/92 to 27,714 in 1995/96.
While Dalglish's management undoubtedly played an important role in Blackburn's rise, it relied on the financial backing of Jack Walker, the local businessman and Rovers fan who had amassed a fortune in the industry of steel, and devoted tens of millions of pounds to his local club.
With Walker's support, Ewood Park was rebuilt into a smart all-seater stadium, while new training and Academy facilities were built, with the aim of Blackburn eclipsing the Manchester United as the leading club in the country.
He also broke the British transfer record twice, signing Alan Shearer from Southampton for £3.3m in 1992 and Chris Sutton from Norwich City for £5m in 1994.
With a host of other high-profile signings playing behind them, the forwards forged a powerful partnership, earning themselves the nickname 'SAS' and scoring 49 goals between them to lead Rovers to the Premier League title League in 1994/95, beating Alex Ferguson's Manchester. United in second place.
Rovers played in the UEFA Champions League, but their success was not sustained and in 1999 they were relegated. Sadly, a year later, Walker died at the age of 71.
Blackburn returned to the Premier League in 2001, won the League Cup in 2002 and stayed in the top flight for eleven years, finishing sixth twice, but never came close to replicating their stunning 1994 success /95.
The Walker family sold the club to Indian poultry conglomerate Venkys in 2010. Blackburn were relegated in 2012, then dropped to League One for one season in 2017/18. A succession of mid-table Championship finishes have followed, but Rovers finished eighth last season and, under former Denmark international Jon Dahl Tomasson, have made a strong start to the current campaign.
Blackburn could be weaving its way back to where it all began.

Source: West Ham United v Blackburn Rovers – All You Need To Know